GMG Jim Bowie Competition Cart (Base Model) - Supply your own Grill
comp-jb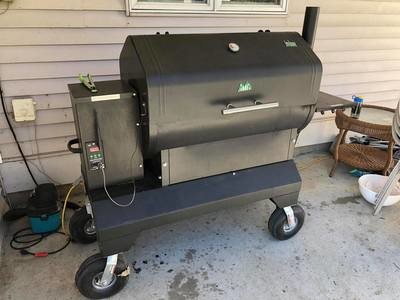 Green Mountain Grill Competition Carts
*Lookup Shipping Zone here to see your shipping costs.

Jim Bowie Competition Cart (Base Model). Fits Jim Bowie Green Mountain Grill Smokers, except Prime Models (coming Spring/Summer 2019).
Grill Grate Height: 34 Inches to the Grates
Caster Size: 8" No-Flat Foam Filled Casters
This is the Base Model Competition Cart and is pre-lasered for simple addition of tie-downs, front and rear name-plates, and electrical connectors to the cart.
Shipping in Continental U.S. via FedEx Only
Jim Bowie Prime Grill Cart (0)
Jim Bowie Choice Grill Cart (0)
4 Tie-downs (14)
Residential (8)
Commercial (0)
Zone 7* - See Below (72)
Zone 6* - See Below (72)
Zone 5* - See Below (70)
Zone 4* - See Below (68)
Zone 3* - See Below (64)
Zone 2* - See Below (60)
Pickup in Rock Valley, IA (0)